SPECIAL NOTE
Please note the information below reflects the dates, prices, and itinerary for our 2020 course which was canceled due to the Covid-19 pandemic. We continue to monitor the situation and will update the course information for Summer 2021 once we have deemed the course safe in consultation with science-based recommendations, NGO leaders' insight, advice from SStS board member physicians, and travel industry knowledge from Global Rescue. We have no intention to travel under any circumstances that do not meet our high expectations for risk management. If you have any questions about Summer 2021 programming please contact Bill Cotter (
[email protected]
).
Dates
---
June 19 to July 8, 2020
Departure City
---
Los Angeles, California
The service work will then begin with visits to non-profit organizations dedicated to improving the lives of impoverished women and vulnerable children. After these experiences, students will get their first exposure to rural Cambodian life as they travel by minibus to the town of Kratie in order to connect with our primary non-profit partner, the Cambodian Rural Development Team (CRDT). After spending a day exploring Kratie and learning more about the work and mission of CRDT, the group will travel to the island village of Koh Preah, where they will live with villagers in traditional homes for over a week. While in Koh Preah, the group will experience firsthand how CRDT supports local projects aimed at improving the living standards of poor rural communities with a particular focus on sustainable environmental practices.
SStS students will spend a majority of their time in Koh Preah doing construction and repairs at the village school as well as working with the local children. Additionally, they will be immersed in the daily routines of this rural village. Evenings will be spent listening to stories told by village elders and participating in cultural presentations and ceremonies. In order to get a feel for the adjacent countryside, the group will tour the storied Mekong River by boat and, ideally, catch a glimpse of endangered freshwater dolphins. Upon completion of the project, the group will tour several cultural sites on their way back to Kratie. From there, they will travel to Siem Reap in order to spend a few days reflecting on what they have learned about ethical leadership and touring Angkor Wat, an UNESCO World Heritage Site, which is the largest Hindu temple in the world.
The mission of the Cambodian Rural Development Team is to sustainably improve food security and living standards in rural communities throughout Cambodia. To learn more, please visit their website.
CRDT
Course Elements
The course elements are based on a rating from 1 to 5, 1 being the least rigorous, 5 being the most rigorous.
5
While in the village of Koh Preah, the students will spend much of their time doing construction work. They will also visit other non-profits in Phnom Penh and Siem Reap in order learn more about development work in Cambodia.
5
Prior to their travels, students complete a series of online activities (30 minutes each). While traveling, they also read engaging articles, participate in cultural experiences, and create presentations in small groups.
2
Because the project occurs in a small village, the students will primarily walk to any sites in Koh Preah. While touring Angkor Wat, they will also spend a couple days exploring numerous temples on foot.
4
While at the rural project site, the students will live, in pairs, with Cambodian families in traditional homes. While in Phnom Penh, Kratie, and Siem Reap, they will stay in simple hotels.
4
After a few days in Phnom Penh, the group will drive several hours to Kratie. The next day, they will travel by mini-bus and boat to Koh Preah. After completing the project, a day is spent driving to Siem Reap to explore Angkor Wat. There is another bus trip back to Phnom Penh at the end of the course.
4
Students have the unique opportunity to spend over a week living, in pairs, as the guests of Cambodian families in the island village of Koh Preah.
4
For a majority of the days, the group will be in the remote rural village of Koh Preah. However, time is also spent in Cambodia's capital city, Phnom Penh, as well as the smaller cities of Kratie and Siem Reap.
Element Descriptions
Making friends while working
Being a global citizen is more than understanding global issues. Being a true global citizen is having the passion, as well as the courage, to make a difference in our world.
Building structures for a sustainable farm
Working with local kids to expand the school in Koh Preah
Enjoying time with homestay families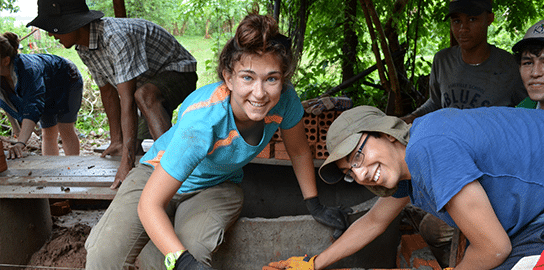 Constructing a community center in Koh Preah
Cambodia
: In Three Phases
1
---
the 5 Lenses Curriculum
Prior to departure, students are guided by their course instructors through a series of interactive, online lessons. Organized by SStS's Five Lenses Curriculum, these activities (30 minutes per week) allow students to directly engage with other members of the group.
The majority of the days at each site are spent engaged in meaningful service work with our NGO (non-governmental organization) partner. Days not dedicated to project work are spent immersed in intriguing cultural activities.
During the next school year, students educate others by advocating for our NGO partner through public presentations to the community at large and/or younger, school-based audiences.
During the travel phase of each SStS course, students spend time reflecting about the learning that occurs through their immersion and service experiences. These posts capture the impact of our programs on individual students. Explore the posts below to learn about the SStS Cambodia program from the important viewpoint of our students.
Explore Cambodia
Cost Information
Students who attend a school that is a member of SStS's Global Schools Coalition receive a tuition discount. To see the list of schools in the coalition, click HERE.
Tuition (students from members of the Global Schools Coalition): $4355
Tuition (students not from members of the Global Schools Coalition): $4555
Airfare & Fees: $1475
SStS is in search of curious, compassionate, globally-minded students. Thus, we will do all that we can financially to support students whose circumstances preclude paying the full cost. If you would like to be considered for financial assistance, please indicate so on the application. Financial assistance resources are limited. Scholarships tend to be less than 50% of tuition.
Please note, tuition does not include airfare and immunizations.
Tuition costs are all inclusive with the exception of personal expenditures (e.g. souvenirs).
Tickets and medical & security evacuation services are purchased as a group. The cost of these services is included in the tuition.
Talbot Travel Agency provides travel services for SStS, working personally with us to find the least expensive fares.
As a result, it is not possible to use airline miles or credit card benefits for the international flights. However, these can be used to purchase tickets to the gateway city.
Travel Expectations
Please note that we expect all participants to travel together, adhering to the identical itinerary. We will depart the United States as a group from a gateway city. Exemptions may be made for international students. Additionally, travel in the developing world inevitably includes "the unexpected" (e.g. weather disruptions, transportation strikes, etc.). SStS will adjust the itinerary accordingly, making the best of uncontrollable situations. Due to the unknown variables in international travel, participants are asked not to make travel plans or to enroll in programs that start immediately after their return. SStS is not responsible for expenses incurred due to missed flights if the group is delayed in their return.