SPECIAL NOTE
Please note the information below reflects the dates, prices, and itinerary for our 2020 course which was canceled due to the Covid-19 pandemic. We continue to monitor the situation and will update the course information for Summer 2021 once we have deemed the course safe in consultation with science-based recommendations, NGO leaders' insight, advice from SStS board member physicians, and travel industry knowledge from Global Rescue. We have no intention to travel under any circumstances that do not meet our high expectations for risk management. If you have any questions about Summer 2021 programming please contact Bill Cotter ([email protected]).
Dates
---
June 25 to July 11, 2020
Departure City
---
Miami International Airport
The first days will be spent acclimatizing, exploring Urubamba, participating in various cultural activities, visiting archeological sites and learning about the Llama Pack Project, our non-profit partner. Although high-Andean communities in the Sacred Valley have rich cultural backgrounds rooted in breathtaking settings, many residents are forced to work in cities far from their homes. The Llama Pack Project works to reestablish the use of llamas as pack animals in these high Andean communities as a way to provide an attractive economic alternative to urban dwelling. In addition, the Llama Pack Project works to conserve the precious ecosystems of these communities through environmental education and conservation projects.
After spending the first two nights in Urubamba, SStS participants will have the chance to visit the UNESCO World Heritage Site of Machu Picchu and learn about the impact of tourism in the area. The group will then return to Urubamba for two days while attending environmental workshops and preparing materials for their work in the communities. 
Once acclimatized, the group will complete a three day llama trek alongside members of the Guild of Llama Breeders, associates of the Llama Pack Project, to the town of Cuncani, spending the night at the remote villages of Cancha Cancha and Quishuarani along the way. After completing their trek, the group will have a day to rest and recover before working shoulder-to-shoulder with the community school of Cuncani for six days. In the mornings, the group will be teaching environmental education to local school children and then doing school repair work in the afternoons. In this striking setting, students will have the opportunity to consider what they have learned about ethical leadership before returning to Cusco to begin their journey home.
The Llama Pack Project teaches Andean villagers how to raise pack llamas for the tourism industry as tools for sustainable development and conservation of mountain ecosystems. To learn more, please visit their website.
Llama Pack Project
Course Elements
The course elements are based on a rating from 1 to 5, 1 being the least rigorous, 5 being the most rigorous.
5
Students will be teaching environmental education to school children and doing maintenance at a local school.
5
Prior to their travels, students complete a series of online activities (30 minutes each). While traveling, they also read engaging articles, participate in cultural experiences, and create presentations in small groups.
5
Students will complete a 3 day 2 night trek to a high-Andean community. The group will carry packs as they hike through high-altitude mountainous terrain. It is critical that participants actively prepare prior to travel so they are physically fit.
5
During the first and last days of the course, the group will stay in a hostel for volunteers in shared rooms with bunks. While at the project sites, the students will stay in a simple community center in a remote Andean village situated at a high elevation and then camp in tents during a two day llama trek.
4
After arriving in Cusco, the group will drive for a couple hours to Urubamba where they will stay for the first few days. Then they will take a train to Machu Picchu. After that, they will trek to the project site before returning by van to Urubamba and then Cusco.
2
Although the group will spend a lot of time with the children at a school and stay in remote villages, they do not stay in the homes of individual families.
4
In addition to several days spent in the small city of Urubamba, the group will spend eight nights in remote Andean communities.
Element Descriptions
Preparing for a llama trek
I learned that we should look at the world's problems as all of our problems and work together to solve them. I also learned more than I can put into words about the value of resilience, a positive attitude, and education.
Native tree restoration in a remote Andean community
Setting up camp in a high Andean community
Building a native plant nursery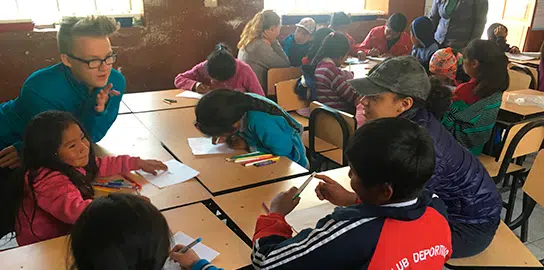 Teaching classes at a local school
1
---
the 5 Lenses Curriculum
Prior to departure, students are guided by their course instructors through a series of interactive, online lessons. Organized by SStS's Five Lenses Curriculum, these activities (30 minutes per week) allow students to directly engage with other members of
the group.
The majority of the days at each site are spent engaged in meaningful service work with our NGO (non-governmental organization) partner. Days not dedicated to project work are spent immersed in intriguing cultural activities.
During the next school year, students educate others by advocating for our NGO partner through public presentations to the community at large and/or younger, school-based audiences.
During the travel phase of each SStS course, students spend time reflecting about the learning that occurs through their immersion and service experiences. These posts capture the impact of our programs on individual students. Explore the posts below to learn about the SStS Peru program from the important viewpoint of our students.
Explore Peru
Cost Information
Students who attend a school that is a member of SStS's Global Schools Coalition receive a tuition discount. To see the list of schools in the coalition, click HERE.
Tuition (students from members of the Global Schools Coalition): $4745
Tuition (students not from members of the Global Schools Coalition): $4945
Airfare & Fees: $1610
SStS is in search of curious, compassionate, globally-minded students. Thus, we will do all that we can financially to support students whose circumstances preclude paying the full cost. If you would like to be considered for financial assistance, please indicate so on the application. Financial assistance resources are limited. Scholarships tend to be less than 50% of tuition.
Please note, tuition does not include airfare and immunizations.
Tuition costs are all inclusive with the exception of personal expenditures (e.g. souvenirs).
Tickets and medical & security evacuation services are purchased as a group. The cost of these services is included in the tuition.
Talbot Travel Agency provides travel services for SStS, working personally with us to find the least expensive fares.
As a result, it is not possible to use airline miles or credit card benefits for the international flights. However, these can be used to purchase tickets to the gateway city.
Travel Expectations
Please note that we expect all participants to travel together, adhering to the identical itinerary. We will depart the United States as a group from a gateway city. Exemptions may be made for international students. Additionally, travel in the developing world inevitably includes "the unexpected" (e.g. weather disruptions, transportation strikes, etc.). SStS will adjust the itinerary accordingly, making the best of uncontrollable situations. Due to the unknown variables in international travel, participants are asked not to make travel plans or to enroll in programs that start immediately after their return. SStS is not responsible for expenses incurred due to missed flights if the group is delayed in their return.