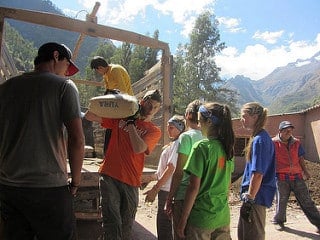 A long time ago (perhaps a week), in a country far, far away, a group of students was settling into life at Munaychay Children's Village outside of Urubamba, Peru. Teens and instructors alike were getting used to early mornings, local soups and dishes, and glacial showers. The children of Munaychay and students from the Northern hemisphere continued to bond over soccer, Inka Kola, and an excitement to be experiencing life at the foot of the Chicon glacier.
Our morning tasks at Munaychay were varied: one day, we moved stones in a fire brigade line to create fish ponds for trout that will help sustain Munaychay economically. We continued to clear grass and brush from farming terraces at the village and spent a morning working to extract and package honey from the beehives there. Last Wednesday, students and leaders shared dinner, breakfast, and in some cases a sleepover with the Munaychay children and the "tías" who take care of each house of ten children.  Everyone left with full bellies and a deeper connection to the people whose home we were sharing. Some daily highlights during this period include a trip to Cusco to experience the Inti Raymi solstice festival and a hike to Wawa Wasi, a nursery and day care for children with working parents in the city of Urubamba.
Then, last Friday, we bid farewell to the children and tías at Munaychay and took a bus to Ollantaytambo, where we began our 3-day trek to the Lares hot springs. After a traditional Andean ceremony asking Pachamama, or Mother Earth, for permission to start our hike, we started off on a trail above tree line, nestled between hills dotted with llamas, alpacas, and stone houses.  At each meal stop, people came out of their houses in traditional clothing to greet us, seeing if we wanted to buy any woven goods. As we hiked, our guides Herbert and Rutie taught us about the communities were passing, traditional Andean ways of life, and Incan history. At each meal stop, we were treated to a multi-course meal, and even shared a delicious cake to end our trip. Over the course of three days, our trek dipped below tree line and rose to a cloud forest. We finished by hiking to the Lares hot springs, where we rested our aching bones in the restorative waters.
Rejuvenated, we took a bus and a train to Aguas Calientes, the town at the base of Machu Picchu.  With hot showers and full bellies, we were ready for our wake-up call at 4:30 AM so we could experience sunrise at Machu Picchu. Unfortunately, Pachamama had other plans and our sunrise was obscured by fog, but Herbert gave us a great tour and told us about the structures at Machu Picchu and what they were used for in Inca times. After more exploration in the sunshine, we headed back to Urubamba, where we ate pizza, played with puppies, and relaxed in our friend Edwin's hostel.