The Global Solutions Forum
An international collaboration of SStS partners
Now, more than ever, society needs ethical leaders
The 2018 Global Solutions Forum, in partnership with University of Denver's Daniels College of Business, gathers those who embrace the virtue of social responsibility and aim for actionable change. Join leaders in the business, nonprofit, and education sectors to discuss to discuss the fundamental role of ethical leadership in addressing this gap between what is and what ought to be.  
Join us for a three-day, intimate conference that features a wide range of programming to inspire and support ethical leadership. Attendees can choose between the Education Track or Business Track, but will also have ample time for mixing and collaboration. The 2018 Global Solutions Forum will take place from October 24 to October 26, 2018, in Vail. Register by August 31 to take advantage of early bird pricing.
Register
Building compassion through service learning
The role of mindfulness and compassion in ethical leadership
Leadership development programs
Differences in leadership across cultures
Preparing leaders for a global marketplace
Cultivating compassion through non-profit partnerships
Dr. Karambu Ringera (IPI, Kenya) | New Generation Leaders: Preparing Young Leaders to Create Change in Their Families, Schools, and Communities
Sonam Sherpa (TSW, Nepal) | Himalayan Hope Home: Raising Underprivileged & Vulnerable Girls to Become the Next Generation of Nepali Leaders
Sanjli Gidwaney & Tara Seibel (Design for Change USA) | Using Design Thinking to Activate Student Agency
Christa Dillabaugh & Ava Goodale (Amazon Workshops & Millbrook) | Bringing the Maijuna to Millbrook: How Global Citizenship Inspires Local Stewardship
Evin Schwartz (Belouga) | Learning About The World With The World
*Presenters will be announced as they are added. Please continue to check back for speaker updates.
5 p.m. Welcome reception for all attendees
8:30 a.m. – 3:30 p.m. Workshops, keynotes and panel discussions related to the conference theme.
3:30 p.m.-5:00 p.m. Networking reception
6 p.m. Dinner
9:00 a.m. – 3:00 p.m. Workshops, keynotes and panel discussions related to the conference theme.
3:00 p.m-3:30 p.m. Closing remarks
6 p.m. Closing dinner
Location: The event will take place in Vail, Colorado, utilizing two properties, the Arabelle, where the majority of meetings will take place and the Antlers, who will provide additional lodging and meeting space needs.
Lodging: The Antlers at Vail is offering special rates to GSF attendees. To make a reservation call 1.800.843.8245 and refer to leader code #174327. Rates per room (not including tax) are: $144 for Studio or 1BR units, $252 for 2BR/2BA 900 sq ft units, $270 for 2BR/2BA 1,000 sq ft units, $285 for 3BR/2BA units, $336 for 3BR/3BA units, $471 for 4BR/4BA units.
Meals: Meals (lunch and dinner) are included in the registration fee and include the welcome reception on Wednesday, as well as lunch and dinner on Thursday and Friday.
Register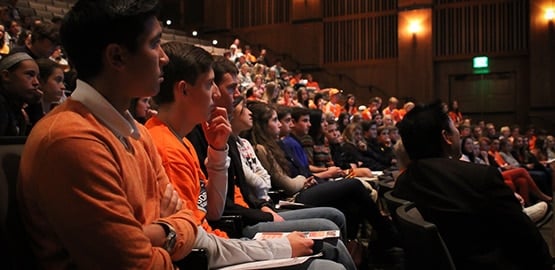 The Forum includes a public session for all to attend.
SStS NGO leaders fly from around the world to attend the Forum.
Keynote speakers include experts from a variety of fields – all addressing "global solutions."
NGO leaders that come to the Forum visit with students at our GSC partner schools.