The Global Solutions Forum
An international collaboration of SStS partners
What is the Global Solutions Forum?
The annual Global Solutions Forum brings together educators, non-profits, businesses, and SStS early career alumni to discuss the emerging appreciation and value of ethical leadership. Practicing professionals will provide strategies for inspiring and supporting ethical leadership as an educational aim for schools and as a means for improving culture, retention, and productivity in business.  
The cornerstone of ethical leadership is compassion, the ability to understand others' perspectives and use that as a catalyst for supportive action. This theme will permeate the Forum through keynotes, breakout sessions, and plenty of time for participants to connect. This three-day event will run from October 24 to October 26, 2018.  
Building compassion through service learning
The role of mindfulness and compassion in ethical leadership
Differences in leadership across cultures
Leadership development programs
Preparing leaders for a global marketplace
Cultivating compassion through non-profit partnerships
Dr. Karambu Ringera (International Peace Initiatives, Kenya)
New Generation Leaders: Preparing Young Leaders to Create Change in Their Families, Schools, and Communities
Sonam Sherpa (The Small World, Nepal)
The Himalayan Hope Home: Raising Underprivileged and Vulnerable Girls to Become the Next Generation of Nepali Leaders
*Presenters will be announced as they are added. Please continue to check back for speaker updates.
5 p.m. Welcome reception for all attendees
8:30 a.m. – 3:30 p.m. Workshops, keynotes and panel discussions related to the conference theme.
3:30 p.m.-5:00 p.m. Networking reception
6 p.m. Dinner
9:00 a.m. – 3:00 p.m. Workshops, keynotes and panel discussions related to the conference theme.
3:00 p.m-3:30 p.m. Closing remarks
6 p.m. Closing dinner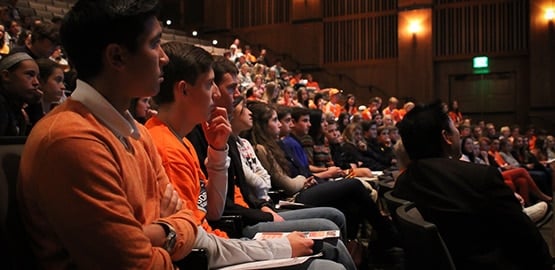 The Forum includes a public session for all to attend.
SStS NGO leaders fly from around the world to attend the Forum.
Keynote speakers include experts from a variety of fields – all addressing "global solutions."
NGO leaders that come to the Forum visit with students at our GSC partner schools.