The Global Solutions Forum
An international collaboration of SStS partners
What is the Global Solutions Forum?

The annual Global Solutions Forum is a gathering of SStS partners: NGOs, alumni, educators, and businesses. This three-day event from October 25 -27 creates opportunities for the SStS community to collaborate in support of effective strategies in global education and ethical leadership. True partners create time to work together in shared space, to laugh, to remind each other of our shared value. The Forum includes a half day of sessions at Vail Mountain School on October 27 that is open to the public and two days of specific educational and professional opportunities for each partner segment in our organization. This event is presented by Borgen Family Foundation.
This year's forum will include a two-day professional development conference for educators. The theme of the conference is Global Citizenship Education: Transforming Vision into Daily Practice. Teacher led workshops will showcase how global citizenship education is being infused through existing school programming in areas such as community service, arts, college admissions, core academics, athletics, travel abroad, advisories, parent education, and youth-led initiatives. The conference is designed to foster collaboration and support for effective strategies in global education and ethical leadership.
If you would like to offer a workshop at this year's conference, please apply by September 1.
Details about the event, including meals, lodging, and travel, can be found on our Eventbrite page.
Keynote presentations by Mike Johnston and non-profit leaders from SStS partner organizations.
Tickets will be available starting on June 1.
The keynote addresses will occur in the Peter Abuisi Theater at Vail Mountain School.
Antlers at Vail is the Forum's sponsoring hotel. In addition to being awarded Vail's highest-level Platinum lodging rating, the TripAdvisor Certificate of Excellence and GreenLeader status, Antlers at Vail was recently named a "Best Ski Hotel for Families" by Curbed Ski. 
We are fortunate to call Antlers at Vail a Shoulder-to-Shoulder partner and encourage you to book accommodations directly through their website for a Forum discounted rate. 
Beautiful one bedroom condos start at $139. Forty percent discounts are offered for larger units. Use the "Book Now" button below to access these generous deals. If prompted to add a group attendee code, use SSTS17.
More details coming soon.
 Keynote speakers and featured workshop presenters will be announced soon. Please check back here, or follow us on Facebook, to learn more about the 2017 Global Solution Forum speakers.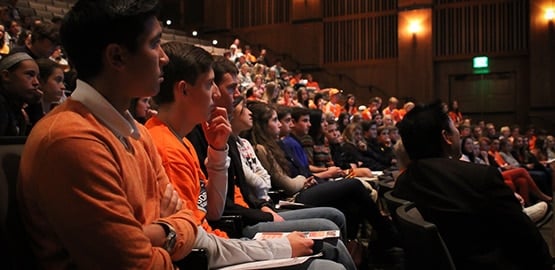 On Friday morning, Vail Mountain School hosts "Voices of Change," the public sessions of the Forum.
SStS NGO leaders fly from around the world to attend the Forum.
Keynote speakers include experts from a variety of fields – all addressing "global solutions."
We typically have ten breakout classroom presentations led by experts and SStS alumni.