DATES
July 23-July 29, 2021
Arrival City
San Diego, CA
TUITION
TUITION
Partner School: $2180*
Non-Partner School: $2380*
We partner with Madres Y Familias Deportadas En Accion to explore immigration along the U.S-Mexico Border from multiple perspectives.
Program Overview
Alongside our partner, Madres y Familias Deportadas en Accion, you will learn about the history of the U.S.-Mexico Border while exploring the U.S. side of the border wall from San Diego to Jacumba Springs. This program will allow you to learn from historians and activists while exploring immigration through multiple perspectives.
While in San Diego you will tour Old Town and its historical sites as they relate to the story of the borderlands alongside border historians. You will also have the opportunity to work at the Binational Garden (Friendship Park) while learning about the importance of this site. After exploring San Diego you will drive to Jacumba Springs where you will hike the border wall. Finally, you will return to San Diego to do a tour with the Border Patrol and learn about the work Madres y Familias Deportadas en Accion does with deportees and refugees.
Note: Due to COVID-19 this program will take place in the United States in 2021. Students will not be entering Mexico.
Program Highlights
Learn about the history of the border from historians and activists

Visit the Binational Garden (Friendship Park) and Chicano Park

Do a daytime hike of the border wall and learn about the border from the perspective of the U.S. Border Patrol
LEARN MORE About Our Partner
LEARNING SERVICE
Using a learning service model, students will learn from historians and border activists, as a way of understanding the context, issues, and people of the U.S.-Mexico border region.
CURRICULUM
Prior to their travels, students complete a series of online activities (30 minutes each). While traveling, they also read engaging articles, participate in cultural experiences, and create presentations in small groups.
TREKKING
Throughout their time in San Deigo, the group will explore various sites in the area on foot. The project work and various cultural experiences only require short drives.
LIVING CONDITIONS
The group stays at a local home reserved for only our group. Students will be cooking meals together and living in shared rooms of 4 people each.
ON THE MOVE
While the program is based in San Diego, the group will be driving by van each day to explore important sites.
REMOTENESS
The group will spend their time exploring different sites in the San Diego metropolitan area in addition to an overnight in Jacumba Springs.
This program will be led by Alex Gomez, a professor, and border historian. Alex works to educate communities along both sides of the border on the complex historical, political, and economic dimensions of migration through the US-Mexico border region. He has led academic tours of the area since 1998.
San Diego II
Photo Gallery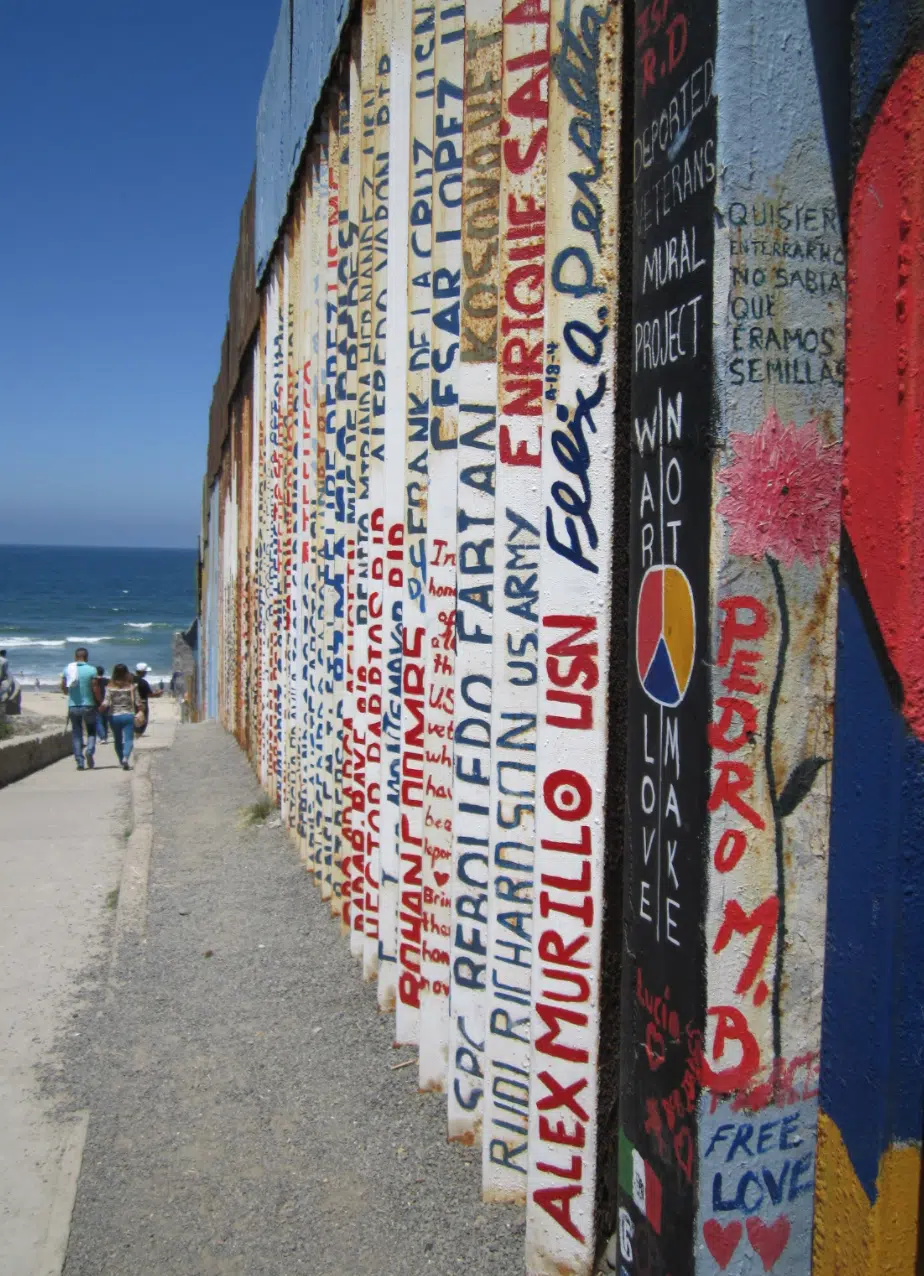 1
Arrive in San Diego. Begin group orientation. Tour Old Town and its historical sites as it relates to the story of the borderlands.
2
Work at the Binational Garden/Friendship Park. Learn about border issues from historians and activists.
3
Work at the Binational Garden/Friendship Park. Learn about border issues from historians and activists.
4
Tour Chicano Park and learn about the murals. Drive to Jacumba and participate in an evening walk along the border fence.
5
Breakfast in Jacumba Springs followed by a daytime hike along the border. Return to San Diego and visit Friendship Park.
6
Half-day tour with the U.S.-Border Patrol. Meet with Maria Galleta, border activist and co-founder of Madres y Familias.
7
Final group debrief. Depart for home.
San Diego II : In Three Phases
1
THE 5 LENS CURRICULUM
Prior to departure, students are guided by their course instructors through a series of interactive, online lessons. Organized by SStS's Five Lens Curriculum, these activities (30 minutes per week) allow students to directly engage with other members of the group.
2
PARTNERING WITH NGOS
The majority of the days at each site are spent engaged in meaningful service work with our NGO (non-governmental organization) partner. Days not dedicated to project work are spent immersed in intriguing cultural activities.
3
POST TRAVEL ADVOCACY
During the next school year, students educate others by advocating for our NGO partner through public presentations to the community at large and/or younger, school-based audiences.
During the travel phase of each SStS course, students spend time reflecting on the learning that occurs through their immersion and service experiences. These posts capture the impact of our programs on individual students. As this is our first year running the program we do not have any travel posts. Please check back soon.
Cost Information
Students who attend a Shoulder-to-Shoulder partner school receive a tuition discount. To see a list of partner schools, click HERE.
Tuition (students from partner schools): $2180 *
Tuition (students from non-partner schools): $2380 *
*Students are responsible for booking their own flight to meet the group in San Diego. Once enrolled our admissions team will assist in choosing the correct arrival and departure times.
SStS is in search of curious, compassionate, globally-minded students and will do all that we can financially to support students who require assistance. If you would like to be considered for a scholarship, please indicate this on the application. Scholarships tend to be less than 50% of tuition.
Please note, tuition does not include airfare and immunizations.
Tuition costs are all-inclusive with the exception of personal expenditures (e.g. souvenirs). Tickets and medical & security evacuation services are purchased as a group. The cost of these services is included in the tuition. Talbot Travel Agency provides travel services for SStS, working personally with us to find the least expensive group fares. As a result, it is not possible to use airline miles or credit card benefits for international flights. However, these can be used to purchase tickets to the gateway city.
Travel Expectations
Please note that we expect all participants to travel together, adhering to the identical itinerary. We will depart the United States as a group from a gateway city. Exemptions may be made for international students. Additionally, travel in the developing world inevitably includes "the unexpected" (e.g. weather disruptions, transportation strikes, etc.). SStS will adjust the itinerary accordingly, making the best of uncontrollable situations. Due to the unknown variables in international travel, participants are asked not to make travel plans or to enroll in programs that start immediately after their return. SStS is not responsible for expenses incurred due to missed flights if the group is delayed in their return.